Before using this feature, it is necessary to create a graphics- or image-based watermark first. Capture One supports all common image file formats with a transparent background for use as a watermark, such as PSD, PNG, TIFF, GIF. Windows users can also use BMP files, while macOS users can use PDF.
Go to the Export icon.


Choose the Watermark tool.


In the Kind drop-down menu, select Image.


Drag and drop a pre-prepared image file with a transparent background in the Drop image here field in the tool or browse for the file by clicking on the File Action menu (...) icon, which is below the Drop image field.


Adjust Opacity and Scale sliders to the desired level.


Adjust the placement of the watermark using the Horizontal and Vertical sliders or by selecting the Pan cursor tool (keyboard shortcut H).


Once the watermark is created, it will be saved as part of the recipe highlighted in the Export Recipe

tool, so it can be reused whenever it is required.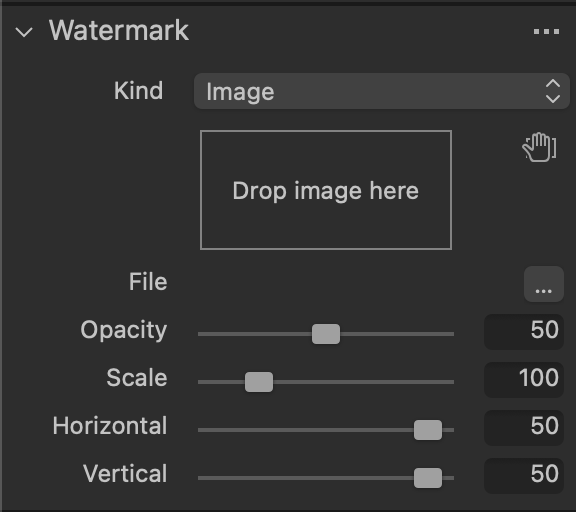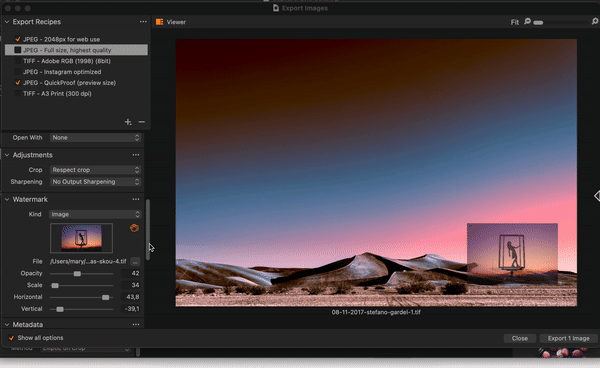 Note: Watermarks will be only shown within the Exporter and not in the main viewer. If you want to see the watermark in the main viewer please be sure that Recipe Proofing is enabled.
<< Adding a text-based watermark | Creating a user preset >>