The Lens Correction tool allows you to correct for geometric distortion, loss of sharpness and light falloff characteristics of a lens. The majority of these lens profiles are created by a specialist team at Capture One, and there are hundreds of such profiles. There are, however, many lenses that have not been profiled by the Capture One team and are unlisted. Here are a few ways to work around the unsupported lens.
The profile chosen shows Manufacturer Profile instead of the lens name
Many manufacturers are now embedding the lens profiles into their firmware, and this information is passed on to the raw source file. In this situation, the camera manufacturer has done the work of geometric and light falloff correction, and Capture One will apply that to any new files.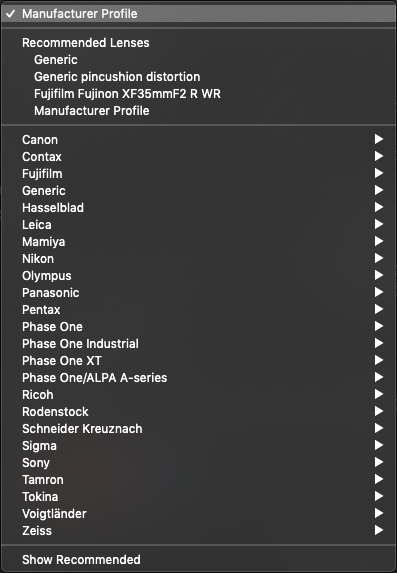 In this example, we can see that this Fujinon XF 35mm F2 lens has embedded a Manufacturer Profile. There is also an option specifically for that lens. In this specific example, the Manufacturer Profile was not sufficient for our standards, and a profile was developed in-house to improve the image quality from those optics.
The lens is available, but for a different mount
Generally, third-party lenses such as those from Sigma, Tamron, etc have the same optical element layout between different mounts. Thus, the "wrong mount" lens profile can be used interchangeably with a negligible difference.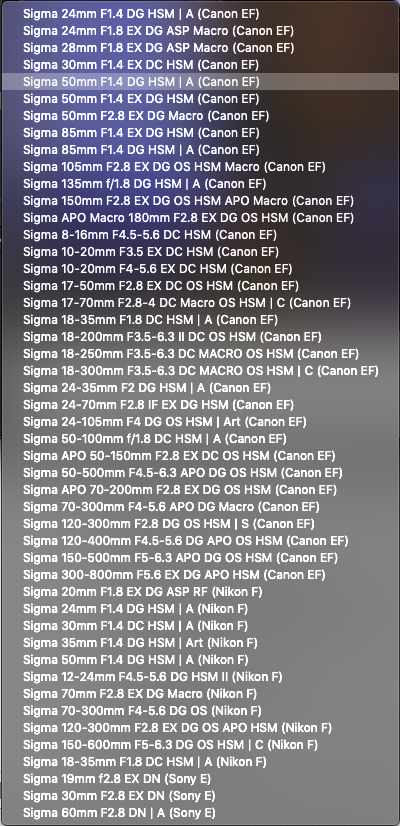 In the example list above, we see there are two entries for the Sigma 50mm F1.4 DG HSM | A, one in Canon's EF mount and one in Nikon's F mount. However, there is only one entry for the 50mm F2.8 EX DG Macro, in the Canon EF mount. If this lens was used in an F mount, it would advisable to use the EF mount entry.
The downside to this is that Capture One will not automatically choose this lens profile. It must be done manually. Once chosen, like other adjustments, it can be copied and applied to other variants from the same camera configuration.
Use a Generic correction

There are two Generic corrections that will allow you to dial in either barrel or pincushion correction. Though decidedly a manual process, if no similar lens is available this is better than leaving it uncorrected.
Let us know!
As with the entirety of Capture One as an application, we thrive on user feedback to push development towards the areas that need it most. If your lens is not listed, does not have a Manufacturer Profile option, or if it's in the wrong mount and the aforementioned option isn't available, feel free to send us a support request. We can't guarantee that every lens ever created for every mount will be profiled, but the more we can gauge the demand, the better.