In addition to the typical workflow of importing image files from various sources, you can use a Capture One Catalog to import previously made catalogs of images from third-party applications. A Capture One Catalog can import Aperture Libraries, albeit with some restrictions. Images are not moved or duplicated but referenced in their original location, including any images stored physically inside the Aperture Library.
NOTE: Importing the Aperture Library is only supported by Capture One for macOS as Aperture is the macOS-only application created by Apple. Consider that Aperture Library has to be updated to Aperture 3.5.1.
NOTE: Files/directories can be offline after you import the Aperture library. Use the Locate function to re-link your offline files/directories. See Offline images explained for details.
NONE: If you receive the error "This library is currently in use", you need to manually remove the "lockfile.pid" file from YourApertureLibrary.aplibrary/Database/apdb
To access files and folders in YourApertureLibrary.aplibrary, right-click the library file and select Show Package Contents.
What is imported?
Before you migrate your Aperture libraries into Capture One Pro's Catalogs, you need to know what Capture One imports, and how to preserve the information Capture One does not import.
Image files and versions
Capture One Pro imports all the images in your Aperture Library as referenced images. If your Aperture Library is "Managed" (the images are stored inside the Aperture Library), you need to relocate the original images to a referenced location outside the Aperture Library before migrating to Capture One Pro. You do not want Capture One Pro to reference images stored inside the Aperture Library package directory. Capture One Pro also imports all the image versions as Capture One variants.
NOTE: In RAW+JPG stacks, either the RAW or the JPG file format is marked as the "Original". The other format is hidden behind the "Original" format and not visible in the Aperture. This also makes it not visible to the Aperture importer in Capture One. Thus, Capture One only imports the file format that is marked as the Original. If you want to import both RAW and JPG files to the Capture One Catalog, you will have to mark RAW as "Original" first and import the Aperture Library, then mark JPG as "Original" and import the Aperture Library once again.
Collections
Aperture Project -> Capture One Project
Aperture Folder -> Capture One Group
Aperture Album -> Capture One Album
Any Aperture Projects which directly contain images have a generic sub-album created in CO to contain the images.
Smart Albums, Books, Light Tables, Slideshows, Web Journals, and Web Pages are not imported.
Adjustments
Aperture local adjustments (brushed-in and brushed-out) are not preserved. You will have to recreate them in Capture One using Layers and Layer Masks, which are far superior to Aperture's brushing in and brushing out. Each Layer with a Layer Mask can reflect multiple adjustments using almost all of the Capture One Pro adjustment tools. Recreating your local adjustments in Capture One Pro should take less time than it took to create them originally in Aperture.
Anyway, here is the list of adjustments that will be imported to Capture One:
Straightening
Crop (if not Straightened)
Flip
Black & White
Enhance/Definition -> Capture One Clarity
Enhance/Saturation -> Capture One Saturation
Exposure/Exposure -> Capture One Exposure
Exposure/Brightness -> Capture One Brightness
Highlights & Shadows (Mid Contrast ignored)
Everything else is ignored.
Metadata
Star Rating
Color Label (note: Ap Grey becomes Capture One Purple, while purple is imported as pink)
Applied Keywords (flat, not hierarchical)
IPTC Core Contact: Creator Name, Job Title, Address, City, State/Province, Postal Code, Country, Telephone, Email, Website
IPTC Core Content: Headline, Caption, Keywords, IPTC Subject Code, Caption/Description Writer
IPTC Core Image: Intellectual Genre, IPTC Scene Code, Location, City, State/Province, Country, ISO Country Code
IPTC Core Status: Title, Job Identifier, Instructions, Provider (Credit Line), Source, Copyright, Usage Terms
Importing an Aperture Library to Capture One
Relocating your originals to referenced folders outside the library is very important. Capture One does not copy your Aperture originals. It imports your Aperture originals by reference where they currently reside on disk. If your Aperture library is "managed" (I.e. your originals are stored inside the Aperture Library), Capture One will reference them there. If you later delete your Aperture library, you will remove the original files Capture One is referencing. Relocating your originals to referenced folders outside the Aperture Library may take some time if your libraries contain a lot of images. You will need to think through the folder structure you want before relocating them. A good starting point for your referenced folder structure is the organization you use inside your Library. You probably put a great deal of thought into that structure.
Capture One creates variants for each of the original image files which are referenced in their original location (i.e., the original images are not moved, or duplicated). You can then continue with your typical workflow using a Capture One Catalog instead.
Open an existing Capture One Catalog or create a new one. To create a new one, select File -> New Catalog.
From the main menu, go to File -> Import Catalog-> Aperture Library...
A Finder/Explorer system window opens. Navigate to the file with the relevant file type - Aperture Library - [name].aplibrary.
A small Activities dialog window opens showing a progress bar of the import.
If any original source images are offline (e.g., when referenced to a disconnected external drive), a warning dialog opens prompting you to Skip All, Skip (specific files), Retry or Stop and dismiss the action.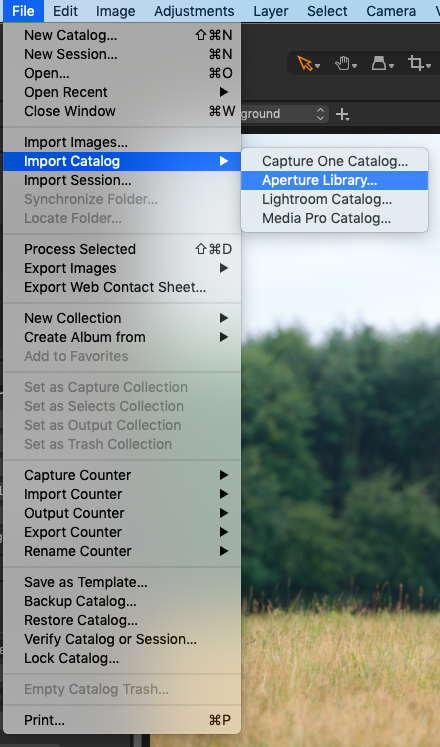 Read more about importing Aperture library to Capture One in this blog post - https://blog.captureone.com/migrating-apple-aperture-libraries-to-capture-one-pro/
<< Importing a Media Pro Catalog | Importing a Lightroom Catalog >>