PROBLEM
I have lost my Capture One License Code or Product Key. Where and how can I find it again?

SOLUTION
Method 1 - Purchased via External Vendor, not yet activated
If you have purchased your license from a Capture One dealer or an external website and have not activated the software yet, contact them and ask for the license key.
Method 2 - Purchased via Capture One online store, not yet activated
It is still possible to retrieve your license code, even if you have not yet activated the software. You can access the purchase history via the My Account page at www.captureone.com, under Order History.
If your Capture One purchase was done via our website before the end of 2018, it was handled by the FastSpring platform, which will store purchase histories as well. You can find this under Go to order history as highlighted below.

If your purchase was made prior to the end of 2018, go to the Order history section in your Capture One account and press See orders placed before 2018.

Method 3 - Retrieving a previously activated license code
If you have already used your key to activate your software or in case you have purchased it from Capture One web shop, please follow the steps below to locate your license key.
1. Login to your Capture One profile at captureone.com. Click My Account.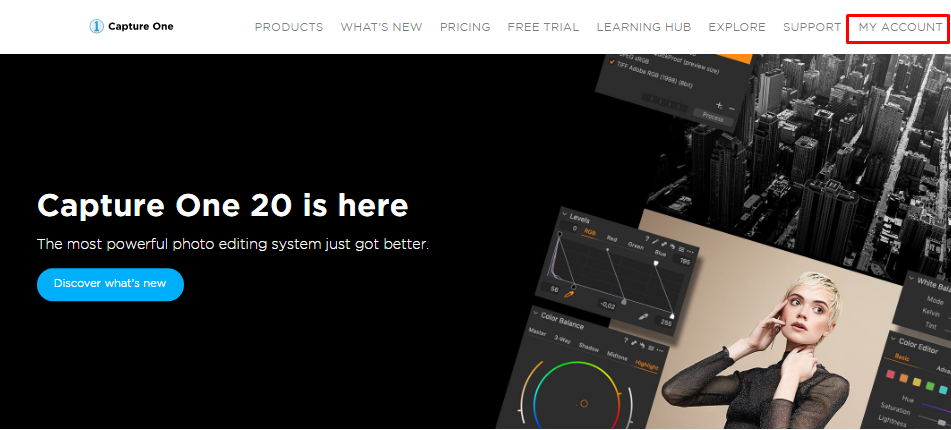 2. Enter your e-mail address associated with your account. Press Next.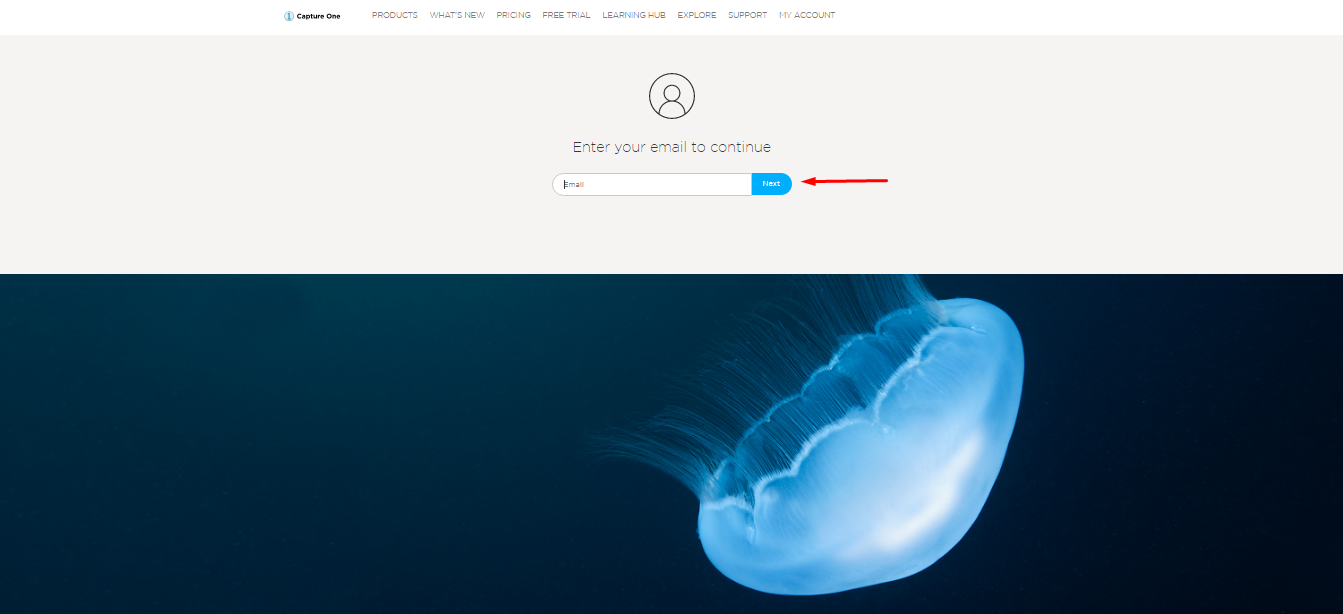 3 Enter your password and press Login, or choose Forgot your password in case you need to update it.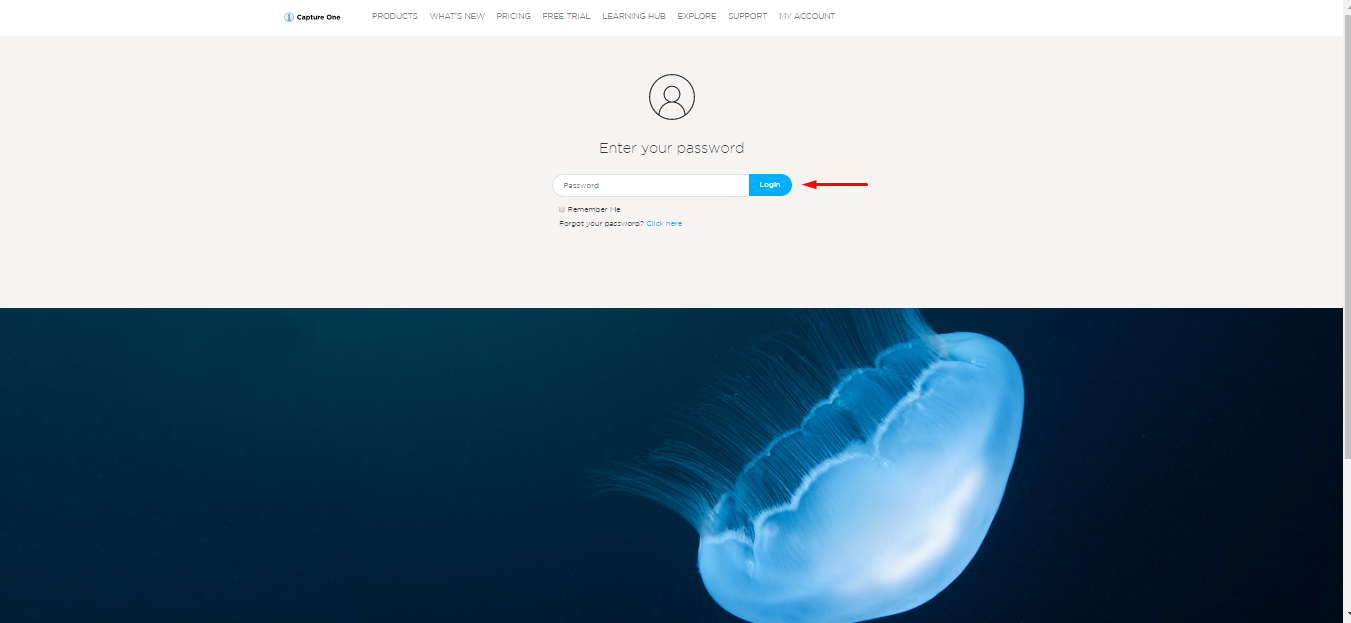 4. Navigate to Manage licenses and click on Go to licenses. 

4. You will see the product keys in License Management. Click on the product to see the license key and other details.

After clicking on the product key, you will see 16 characters of your license code. Furthermore, the important information about your key, the number of free upgrades and activations available will be displayed as well.
You can also view your activation history and reset all activations when you need to activate the software on other computers.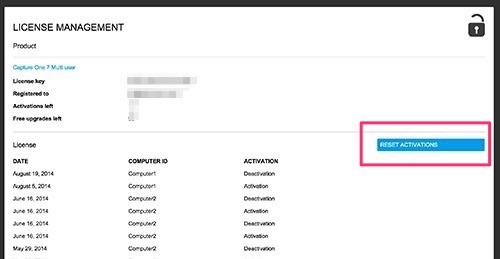 Common terms explained
License code or Product Key consists of 16 alpha-numeric characters.
Free upgrades. As a rule, upgrades allow you to activate the next major release of Capture One. A Capture One 7 license with a free upgrade would allow you to activate Capture One 8.  Free upgrades usually appear on the licenses that were purchased just before the major product release.
Updates should not be confused with upgrades.  An update is a minor version release that does not require any extra cost to be implemented (for instance, going from Capture One 8.1 to Capture One 8.2 is free of charge). Your license is valid for each release that starts with the same version number.  Major changes coming with new versions are called upgrades and are usually paid (for instance, going from Capture One 7.x to Capture One 8.x requires additional payment).
Backward compatibility.  Capture One license can be used for all previous versions as well.  For instance, a Capture One 8 license can be also used to activate Capture One 7. The exception to these rules are:
Subscription license keys are only valid for Capture One 8.0 and newer versions.  They cannot work in Capture One 7 or earlier versions because subscription management is not implemented in those versions of the software.
A subscription key purchased via FastSpring is only backward compatible with Capture One 11.3.2.
If you can find your license in the Fastspring order history, your license is a Fastspring license.
Type
Subscription
Perpetual 
Capture One 7 or older
Not supported by software
Can activate any version of Capture One that is older than the purchased license version   
Capture One 8,9,10,11
Legacy subscriptions are supported since Capture One 8 onward and allow customers to use Capture One from version 8 to the latest one. No longer sold. 
Capture One 11.3.2 or newer
Fastspring subscriptions are supported since Capture One 11.3.2 onward and allow customers to use Capture One from the version 11.3.2 to the latest one. Except for Sony/Fuji

subscriptions 

that are supported from

Capture One 12.