The Adjustments Clipboard is one of Capture One's most versatile and powerful tools allowing to select particular adjustments from various tools as well as Layers (which usually comprise a set of adjustments from different tools) to be copied to other images. The Adjustments Clipboard can be used to create User Presets and User Styles for the ultimate control over the look of your images. 
Located in the Adjustments tab, the Adjustments Clipboard comprises the settings for all the adjustment tools applied to an image as a group are stored when the Copy and Apply Adjustments command is used. As it encompasses all the adjustments made In Capture One, this is the clipboard that is used when any of the various Copy and Apply commands are chosen.
The commands can be selected from the tool itself. The shortcuts are in the main toolbar (slanted arrow icons) or in the Adjustments main menu.
You can use the Adjustments Clipboard in different ways depending on your workflow and whether you want to apply the adjustments to just one image or multiple images.
When you want to apply adjustments to one or more images quickly, whether that is just a couple of settings or a group, ensure that the Edit Selected Variants option is already enabled (go to Image -> Edit All Selected Variants in the main menu or make sure that the Edit All Selected icon in the Toolbar is orange-colored).

If you are not sure which images the adjustments will be copied to or in case you have not enabled the Edit Selected Variants option before pressing Copy, then make a selection of images once again (each of the selected images will have a white border in the Browser), enable the Edit Selected Variants option, and then press Apply.
When you want to apply adjustments just to one image only, press Copy, select the particular image, and then press Apply.
The Adjustments Clipboard oversees each of the individual tools' local copy and applies clipboards. Those can be used either independently or all together. For example, if you want to copy an orientation change between images, then this can be overridden by manually enabling it in the Adjustments Clipboard before selecting the Apply command.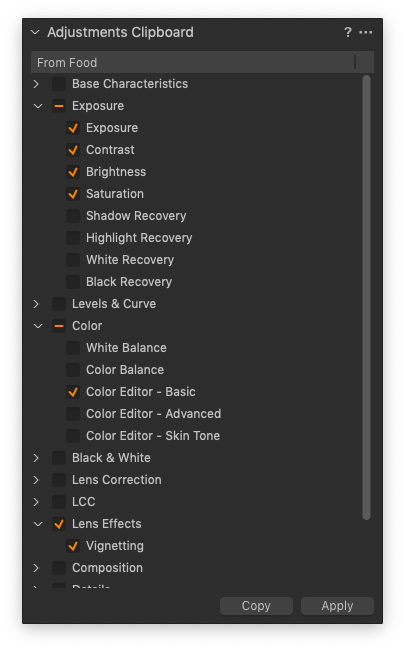 Learn more about the Adjustment Clipboard in the following article:
Copy and Apply adjustments and layers