1. Go to the Keywords tool that is in the Metadata tool tab.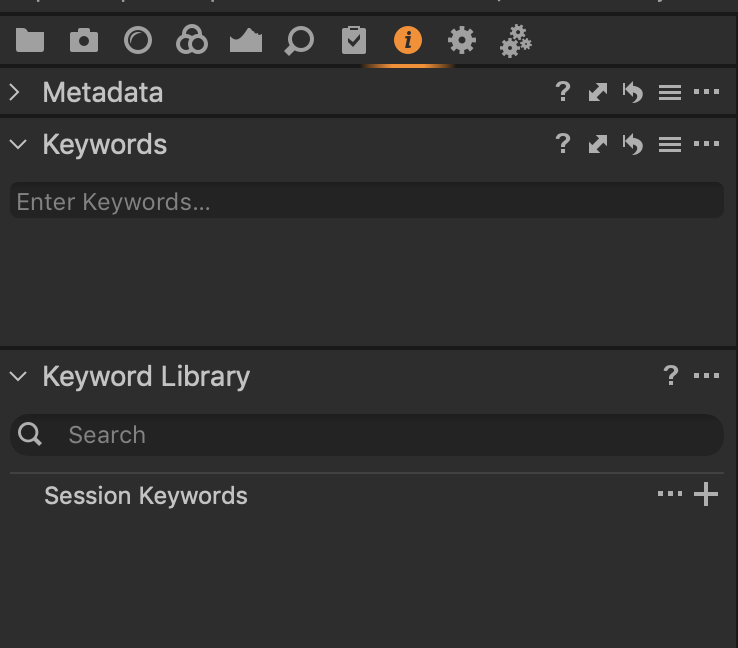 2. Then select an image or images from the Browser that you want to add the keyword tags to. Note that keywords cannot be generated in the Keyword tool unless images are selected first.
3. Type the chosen keyword in the field labeled Enter Keywords… in the Keywords tool.
4. Press the Enter/Return key to add the keyword(s).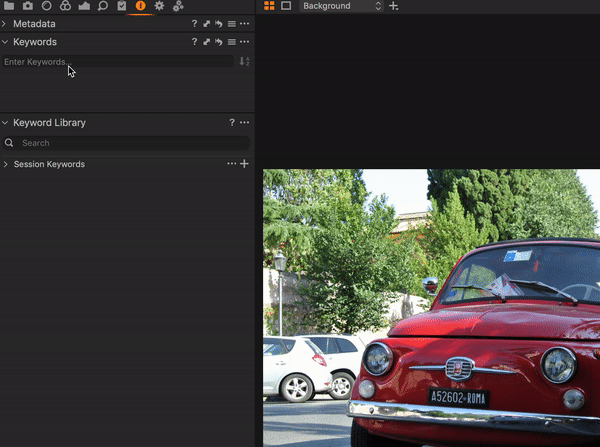 5. To add another keyword tag or set of keywords, repeat the actions from Step 3.
TIP: Adding multiple keywords to an image or images using the Keywords tool
Multiple keywords can be added by separating entries with a comma (,) and then pressing Enter/Return (e.g., Denmark,Vikings,Beer…).
TIP: Adding keywords to multiple images
There are 2 ways to add keywords to multiple images:
Select all the images required for the keywords (making sure that the Edit Selected Variants option is selected). Then type the keyword(s) using the Keywords tool and press the Enter/Return key to add them.
Add keywords to one image, then select the other images in a batch and use the local Copy and Apply tool to paste the keywords to the others in the selection.
TIP: Working with keywords across multiple images
If a selection of images contains keywords and a particular keyword is only applied to some of the selection, then a minus sign (-) will appear on the left side of the keyword. Clicking on a keyword with a minus sign (-) will add the keyword to all selected images.
Capture One has an autofill function for all Metadata fields, including Keywords. As you start to type, Capture One will suggest keywords from those already added to your list. Click on one to select it or scroll and click to select from a list or use the Up/Down keys, then press Enter. Note that the autofill function is not case sensitive.