Select the images in the Browser that you want to add the keywords to.




Go to the Metadata tool tab.


Select the Keywords tool and enter hierarchical keywords in the Enter Keywords… field, dividing the keywords using pipe (|) or greater than (>) sign as a separator (for example, Denmark|Viking|Thor… or Denmark>Viking>Thor…).




Hierarchies can also be added in ascending order using the less than (<) symbol as the separator (for example, Denmark<Viking<Thor...). Note that neither the space key nor hyphen act as a separator.


Press Enter/Return (Windows/Mac) to assign hierarchical keywords.


To amend an existing hierarchical set of keywords, click on the keyword displayed in the Keywords tool and drag it to the new relevant position in the hierarchy.
NOTE: Keyword tags entered into the Keyword tool may be saved as a preset. This is a quick and easy way to add extensive keyword lists to a series of images, even when importing images into a document (Session or Catalog). Presets can be selected from the Styles drop-down menu in the Adjustments tool on the import images dialog box. There are no limits to the number of presets that can be saved and the presets can be stacked allowing multiple lists to be applied.
TIP: It is worth spending some time planning and organizing hierarchies. If you have an extensive list of keywords, it may be quick and efficient to create hierarchies in the Library tool and then dragging the existing keywords into them.
Removing hierarchical keywords
Hierarchical keywords can be removed from an image by pressing the (X) icon in the keyword in the same way as single keywords. If a parent keyword is removed in a hierarchical keyword, then the sub-keyword or child is also removed.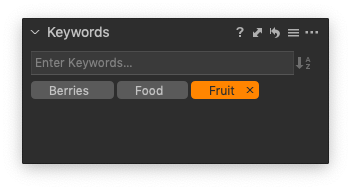 More about hierarchical keywords
Hierarchical keywords are displayed in the Keywords tool as a flat list but retain their hierarchical relationship in the Keyword Library. To see the relationship, navigate to the keyword in the Keywords tool to get a tooltip showing the full path.
If the same keyword exists in more than one Keyword Library, then the keyword label is appended with its child relationship to help distinguish which list it belongs to.