Capture One has a unique feature that allows the user to rearrange the keywords in the Keywords tool. Note that this feature is only applicable to single image selections. If a batch is selected (along with the Edit Selected Variants option), then the keywords are presented alphabetically and cannot be manually sorted. As a reminder of this, an icon is displayed to the right of the Enter Keywords field.
To rearrange the keywords, click and drag the keywords to their new position. This will form the order of keywords when exported or synced to XMP.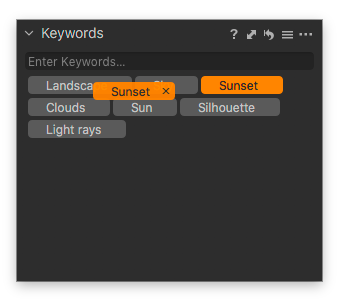 Advanced technical note with a regard to rearranging hierarchical keywords
Hierarchical keywords can be rearranged in the Keywords tool. For the purposes of syncing to XMP or exporting, the Keywords tool will extract and populate the keyword IPTC field as a "flat list" in the chosen order.
If hierarchical keywords are used in your workflow, their order will be preserved and represented in an additional XMP "bag": the lightroom:hierarchicalSubject bag. There will be some discrepancies in the order of keywords in this workflow between the two fields if viewing the variant in Lightroom, Bridge or an application that supports this XMP bag.
<< Hierarchical keywords | Keyword library >>