Before the Auto correction of color can take place, the Levels tool must be set to the individual Red, Green, and Blue Channel mode.
In many cases, the Auto Levels correction of color yields a more pleasing result than the Auto levels in the combined RGB mode.
The channel mode is changed from the application preferences - a shortcut is provided from the tool's Action menu button (… icon).
The Levels tool automatically corrects color casts and sets histogram endpoints, however, manual adjustment of the color balance in each color channel is also possible.
Each slider modifies the shadows, mid-tones, and highlights respectively by adding or removing color. For example, moving the shadow slider to the left in the Blue channel adds blue to the shadows. Moving it to the right removes blue, revealing a green tint.
While Levels is useful for basic corrections, consider using the more intuitive Color Balance tool or Curves for precise control.
Select an image from the Browser.


Go to the Exposure tool tab and navigate to the Levels tool.


Confirm that the Levels tool is set to the individual channel mode.


From the Level's tool title bar, click on the Auto Adjust icon. The individual channels are re-mapped to new values and histograms are adjusted, if within the 0 to 255 levels. Color casts will be corrected and the image will display increased contrast.


If needed, adjust color tone using mid-tone, shadow, and highlight sliders. For example, click on the Red channel tab to add red and adjust individual sliders.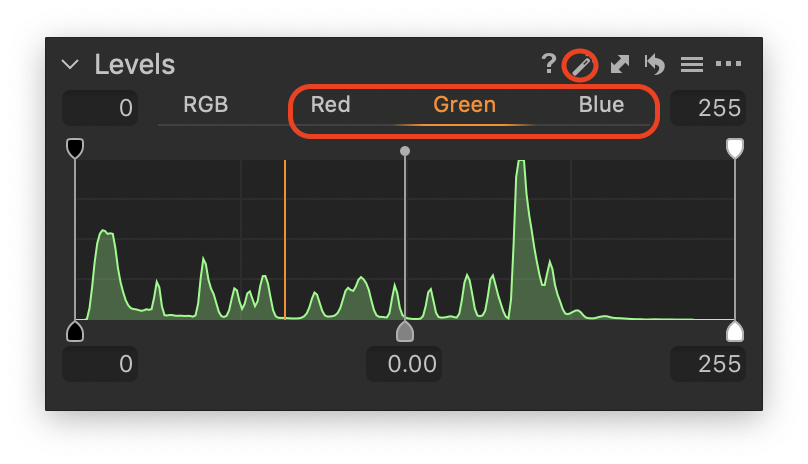 << Adjusting brightness and contrast using shadow and highlight pickers | Adjusting output levels >>