The shadow and highlight pickers can be used to select the black and white points in the Viewer. Although it can be difficult for inexperienced users to decide on the correct areas to select, you can use the Levels' orange histogram marker derived from the cursor tool's position to target the endpoints.
The pickers can also be used to select shadow or highlight points in the combined RGB channel mode and assign target values to specific parts of the image to new output values.
Although you can set the output values directly from the Levels panel, using the provided text boxes, the values can be set from the application preferences when they're required on a permanent basis.
To use the pickers to set the shadow and highlight color, you must switch mode to the individual Red, Green, and Blue channel mode from the application preferences. If you use the pickers, be aware that they undo previous auto or manual adjustments.
The following description relates to setting shadow and highlight points using the combined RGB mode.
Go to the application preferences and select the Exposure tab. Enable Pick Target Levels and adjust the sliders to set the required values if needed.


Go to the Exposure tool tab.


From the Levels tool, select combined RGB mode to set shadow and highlight points.


Select the Shadow Picker and click on the area of your image in the Viewer that has the darkest shadow with detail. You may need to zoom into the image.


Select the Highlight Picker and click on the area that has the brightest highlight with detail in your image.


If needed, adjust the middle slider to the left to lighten or to the right to darken mid-tones.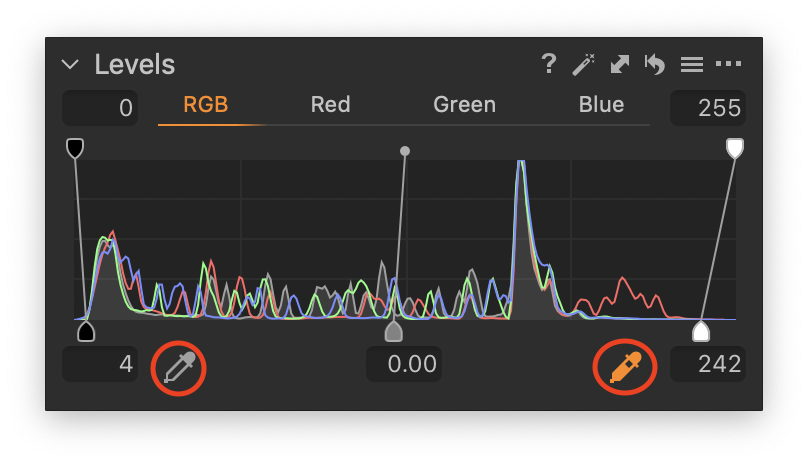 << Manual adjustment of brightness and contrast | Auto correction of color casts and contrast >>