The Clarity tool consists of four different methods and two adjustment sliders that can be used to add or remove what is termed collectively as local contrast in images. It is particularly useful for making contrast corrections after using the High Dynamic Range tool and can also be used for more specialist applications such as diminishing the effect of lens diffraction and for softening skin.
The Clarity tool has four styles or methods for applying local contrast: Natural, Punch, Neutral, and Classic. The method selected affects both the Clarity and Structure sliders, however, the difference on the latter can be particularly subtle depending on the image content.
The two sliders work similarly by altering the appearance of the transition between light and dark edges, however, they differ by the scale of the transition they affect. The difference in contrast of larger-scale transitions or regions can be altered using the Clarity slider. Positive values increase contrast and can be used to reduce the softening effect of haze in images, for example. Negative values can be selected to lower contrast and smooth out or soften unwanted detail that can be useful in portrait images.
The Structure slider is used to alter the contrast between increasingly smaller-scale areas, where transitions have only slightly different tonal values. Therefore, it has a particularly noticeable effect on images that feature very fine detail, such as fine branches, foliage, grass, fabric, and textiles. This adjustment slider can also be used to mitigate the image softening effects from lens diffraction.
Although it is intended that you select the method first and then adjust one or both sliders depending on the effect you want to achieve, there is no reason why you cannot switch between methods after adjusting a slider to see the effect on the image. Care should be taken to avoid excessive adjustment which can lead to clipping and artificial-looking images. Fine-tuning with small adjustments and keeping to low values can greatly improve the look and perceived sharpness of the image.
In this tutorial, learn how to adjust exposure and contrast with the Clarity tool.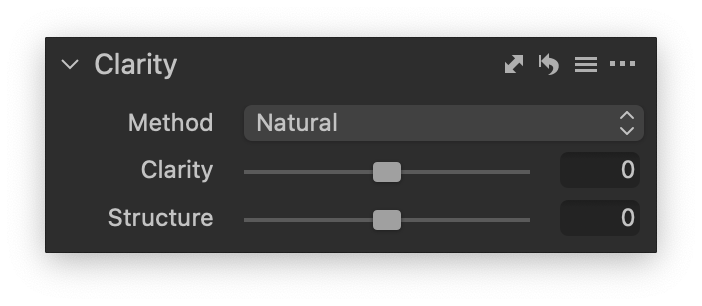 Adjusting local contrast in images
Improving loss of sharpness from diffraction
<< Applying a preset | Adjusting local contrast in images >>