Capture One comes with a number of built-in high-quality Styles that can be used to optimize your workflow and save time when you need to modify an image or apply a certain effect to images. Styles are the combined settings from multiple tools that are applied to images in a single step. Similar to Presets (the saved settings from individual tools), Styles are the same kind of adjustment settings that are made in Capture One during a typical round of image editing.

While the Built-in Styles may be used on their own to apply an effect, they can be used as a starting point for further adjustment, or customized and saved as a Custom Style. Like all of the adjustments in Capture One, they do not alter the source image file, they are simply instructions on how to process the image. You can amend or revise those instructions endlessly as they make no difference to the source image.

Custom Styles are not limited by the choice of settings or the number of tools used. For example, a Custom Style may comprise a combination of color corrections as well as settings from the curves, clarity, and vignetting tools, and adjustments, such as cropping or keystone correction, and include values added to the IPTC metadata fields. You can even make your adjustment layers part of your Styles from Version 16.0 onwards.

Capture One also allows you to stack or combine Styles. You can even save those Stacked Styles as a Custom Style. You can also add Presets or groups of Presets to Custom Styles, allowing you to apply groups of adjustments at practically every step in your editing workflow.
Creating individual Custom Presets for items such as rights usage terms, contact details, and instructions, for example, is a great time-saver. These can be stacked, customized, saved as a Custom Style, and named for each client.

Styles and Presets can be applied at any time, even on import. If the work has been commissioned, you could apply the necessary IPTC metadata before you start editing. After that, you could preview and apply a color grade, convert some variants to black and white, add film grain, and then preview and apply the most appropriate sharpness settings.
Custom Styles can also be shared between users - there is a number of sources of free and commercial Custom Styles available. There is practically no limit to the versatility of Styles and Presets. Styles are accessed from the Styles and Presets tool in the Adjustments tool tab or from the Adjustments menu.
Styles and Presets can be applied to layers. You can apply them directly from the Styles and Presets tool to a filled layer or the background, or if you're working with layers already, you can use the dedicated Layers tool instead.
Note that Capture One CH offers additional built-in Styles crafted specifically for Film Scanning that can accommodate B&W and color transparencies and negatives as well as other transmissive materials.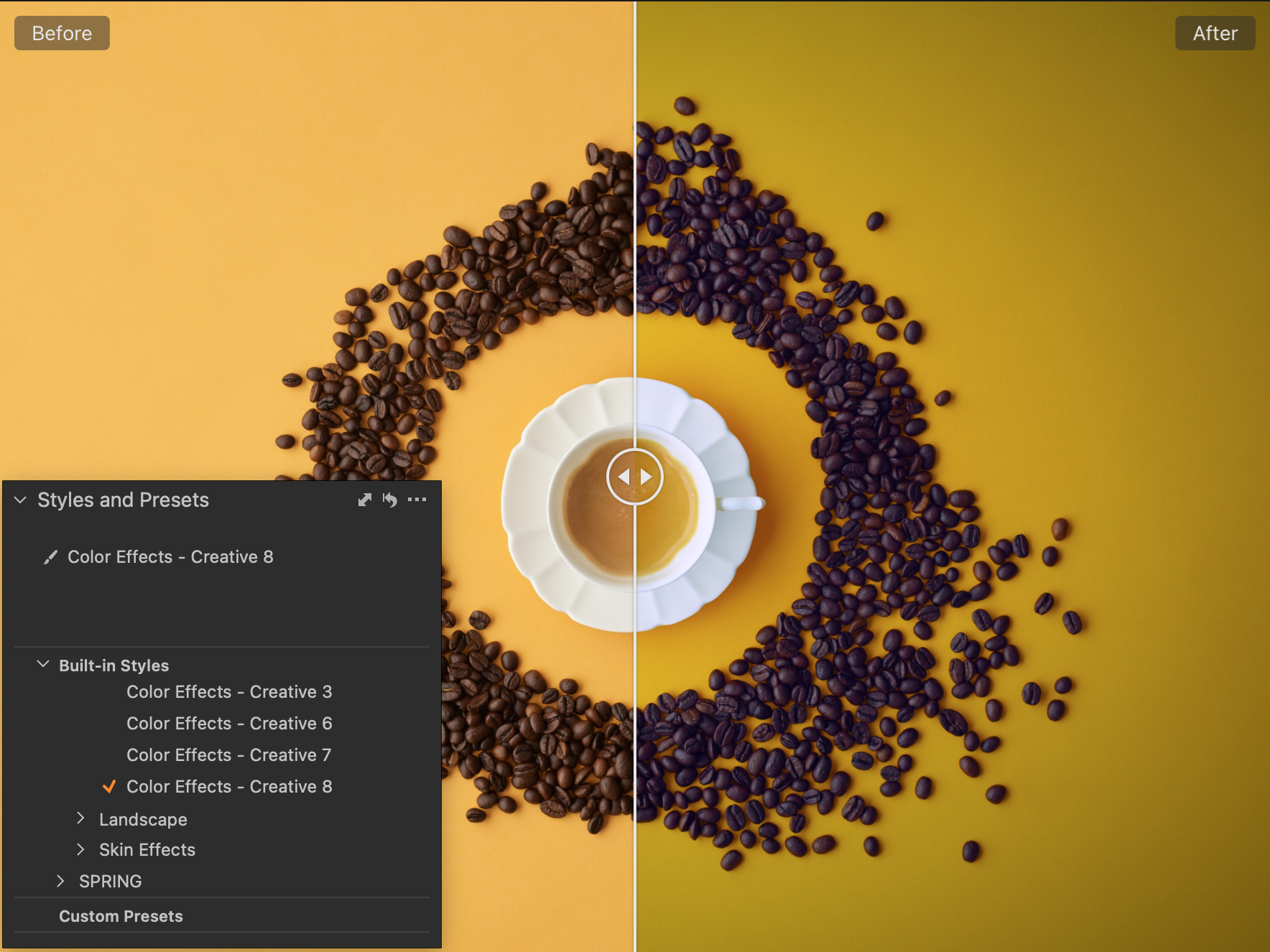 Styles can be used starting from Capture One 10.1.2 and later versions.
NOTE: Professional Styles Kit and Ultimate Styles Collection can be used starting from Capture One 11 and later versions.
Nordic & Beyond Styles are compatible with Capture One 20 and newer versions.
Check out more articles about Styles:
Creating a User Style
Smart Styles
Layers in Styles
<< Saving selections as a Style | Apply a Style >>