The Image Settings panel has several layout options, including choices to add overlays and annotations to the final print:
Zoom to Fill. Use this option to get a postcard effect where all images are cropped to fill the paper.
Rotate to Fill. This option ensures all images have the same layout and are rotated to fit the paper.
Repeat One Image per Page: Each of the selected images will be repeated on one page according to the layout.
Include Overlays. Enable this option to add any previously used overlays during printing. When enabled, the overlay will be superimposed on the image displayed in the print preview window.
Include Annotations. Any annotations added as scribbles or notes earlier in the workflow will be included for printing. When enabled any annotations will be displayed on the image in the print preview window. Note that the images with annotations can be searched for using the Filters tool.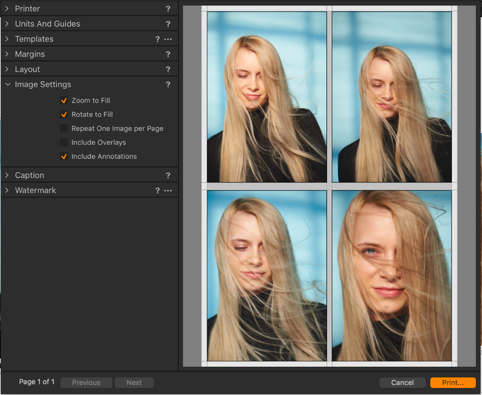 << Adjusting the layout | Adding a caption >>