In the Exporter, you can use the Location tool to specify the destination location for the images to be exported.
Location tool consists of the following fields:
1. Folder - the main destination for your recipe.
Here you have three options:
Catalog/Session Default - a folder is specific to your Catalog or Session that will be shared across all recipes using this default. To change this folder, click the Folder icon to the right.
Same as original file - t

his will use the same folder as the original file as the main location. This is useful if you want to put your exported images into a subfolder next to your original files.

Choose folder - this will let you select an independent recipe-specific folder.



2. Sub Folder - creates a Sub Folder within the Folder above. You can use free text to create a folder or use tokens, for example, Star Rating or Color Tag, to make a dynamic Sub Folder system based on photo-specific inputs.

3. Existing Files - you can decide what to do if there already exists an exported photo in the target destination.
The options are as follows:
Add Suffix (default) - this will add " 1" to the file name, creating a second file as it was in previous versions of Capture One.
Overwrite - this will overwrite the existing file, leaving only a single exported file per original
Skip

- this option will skip any photos that have already been exported to the destination.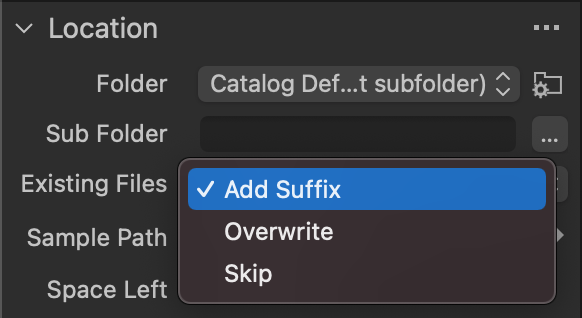 NOTE: If multiple variants of the same images are being exported, enabling Overwrite will cause only the last variant to remain. To circumvent this, add the token Variant Position in the format field within the Naming tool.
4. Sample Path - by clicking the arrow next to the Sample Path field you can open the destination folder.
5. Space Left - shows you how much space is left on your drive.


<<Export Recipes | Naming tool >>