When importing images from a CompactFlash card from the Phase One XF system camera and one or more Sequence has been captured, Capture One can automatically create and name subfolders based on the metadata properties of the Sequence.
For example, when you have captured 10 HDR Sequences and then import them using the Dynamic Location Token for Sequence ID, Capture One can automatically create and name a subfolder for each HDR bracket or Sequence.
Click on the Import button to open the dialog and select only the images that are known to form a Sequence or a series of Sequences.


In the Import To tool, select where to store the imported images from the Store Files fly-out menu.


Adjacent to the Sub Folder field, click on the Location Sub Folder Tokens button (…). The Location Sub Folder Tokens dialog opens.


Select from the combination of four Sequence Naming tokens (Sequence Type, ID, Count, and Total). For example, when just the Sequence ID token is used, a sub-folder is named and created for each individual sequence. When the Sequence Type token is placed in front of the Sequence ID with a forward or backslash (Mac/Windows) between them, the individual Sequence sub-folders are enclosed by a folder denoting the Sequence Type (in this case, if only HDR type sequences were captured, the enclosing folder would be HDR with ID subfolders).


Click OK and continue with your usual import workflow.
NOTE: When images that are not a part of Sequence are included on the CompactFlash card, re-open the importer and import images using a more relevant folder naming format.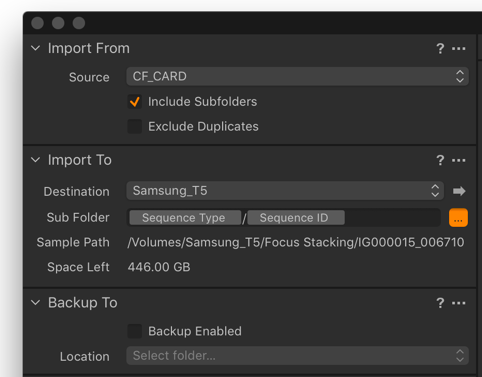 << Sequence ID and Sequence Info metadata | Naming a sequence on import >>