The Capture tool tab is the gateway to tethered shooting with a Phase One digital back or supported DSLR. When connected to the computer, you can import photos directly into a Session or Catalog and store them on the hard disk or an external drive, avoiding importing from a memory card.
Capture One allows full control over a compatible camera. You can adjust a wide range of camera settings and parameters, including the exposure and metering modes, exposure compensation, ISO, white balance and release the shutter. Capture One can even activate a camera's live view function and you can adjust the focusing either remotely, or manually, using the computer's monitor for composition and to check focus accuracy with an enlarged live preview.
For the latest information on compatible cameras, please refer to the Supported Cameras page or view the release notes for the application. Note that supported cameras require a USB cable to connect the camera to the computer (check your supported configuration in the camera documentation) for a simple out-of-the-box "plug and play" experience.
When using an unsupported camera, it may still be possible to use Capture One. Please see the attach unsupported camera section for more details.
In addition, the Capture tool tab allows you to apply a wide range of image adjustments and multiple styles including image preset, keywords, and IPTC metadata automatically from image to image, as well as photos name and create folders on import.
You can also connect to Capture One Pro wirelessly with the Capture Pilot app and an iOS device that lets you present, rate, and capture images remotely. The Capture Pilot dialog in Capture One also has a separate web function that enables you, your Art Director, and your colleagues to view, rate, and color tag captured images from a web browser on a computer, Android (mobile device) or Windows Phone operating system.
Check out this webinar dedicated to tethered capture with Capture One
NOTE: Instant tethered capture and camera control functions are not available in Capture One Express.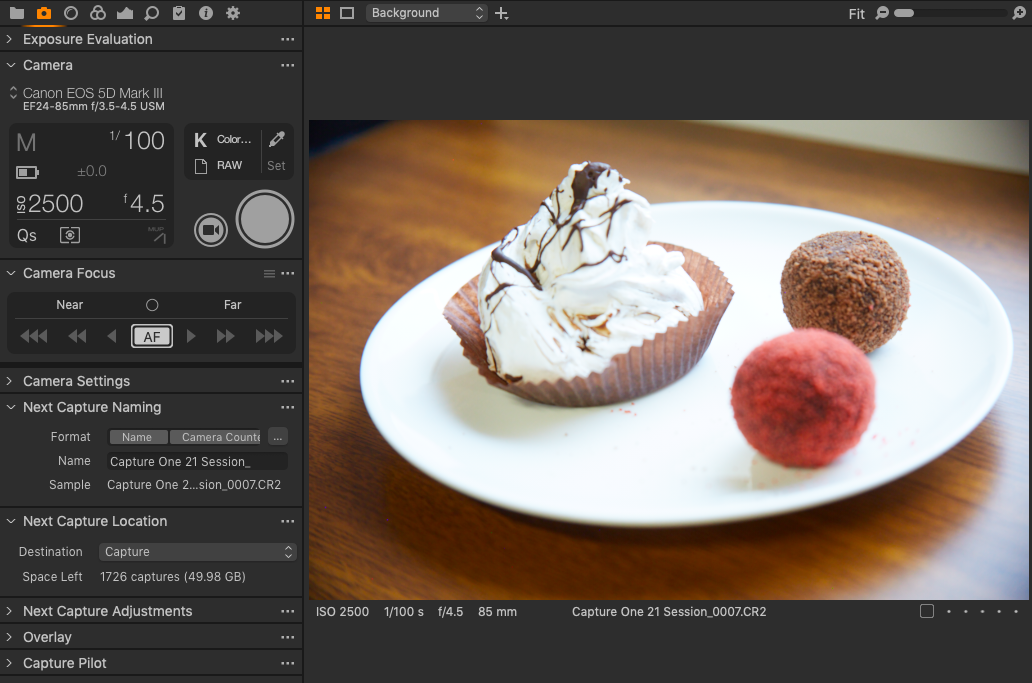 << Restoring images and variants to Collections | Network connection >>