Automatic network connection
Capture One can automatically establish an IP network connection over Ethernet cable or WiFi to a Phase One IQ4 Digital Back via the built-in Bonjour feature. There is no need to configure the IP connection - you just select the IQ4 as the connected camera system from the drop-down menu in the Camera tool.
Once the IQ4 is selected and the connection is active in the Camera tool, you can control the IQ4 and begin the tethering session from Capture One.
The automatic IP connection feature works natively on macOS, but if you need to have Apple's Bonjour installed if are working with Windows. This is done by downloading and installing either iTunes for Windows or Bonjour Print Services for Windows from Apple.
The automatic IP connection feature also works with Phase One Industrial iMX cameras attached via Ethernet cable.
Manual network connection
If the automatic Bonjour connection feature doesn't work or you need to connect via a specific IP network address, you can enter the necessary IP address manually in Capture One. Go to the Camera menu and select Network Camera Manager…. Click Add… and then enter the Name for the network and type in the required IP address in the Address field. Then click Add, then Done.
The Camera Settings tool in Capture One will let you review the IP connection details (IP hostname, IP address, and IP connection port) if you need to troubleshoot the network setup.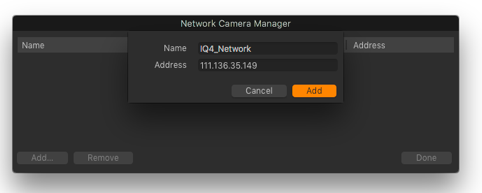 << Tethered capture overview | Tethering with a supported camera >>