The Lens Correction tool includes predefined corrections or profiles for many popular lenses from major lens manufacturers. The profiles include corrections for distortion, chromatic aberration, diffraction, and both sharpness and light fall-off.
In addition to the lens-specific profiles, the Generic or Generic Pincushion Distortion profiles available in the Lens Correction tool address the most detrimental issues related to any simple spherical lens. Complex distortion can only be fully corrected with the lens-specific profiles. Where possible, the lens type will be automatically selected in the Profile drop-down menu. A selection of the most suitable lens correction profiles can be found under the Recommended Lenses heading or you can manually select a lens correction profile from the available list. See the list of lens profiles supported in Capture One.
If a specific lens model is not supported in the Lens Correction tool, you can create a Lens Cast Calibration (LCC) profile to correct a number of issues. For more details, see the section on how to create an LCC profile.
IMPORTANT: The Lens Correction tool works with RAW files only. See the list of camera models and RAW files support in Capture One.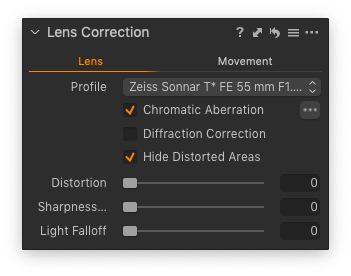 Applying a specific lens profile
Applying a generic lens profile
Chromatic aberration and purple fringing
Diffraction correction with a manual lens
Recording and entering shift movements
<< Making adjustments in Capture Pilot | Applying a specific lens profile >>