Viewing images with the Loupe
The Loupe tool can be used to check focus or inspect close-up details of an image. When selected, you position the Loupe cursor over the area of the image you want to inspect. It can be used at any time in the Viewer or Image Browser of the document window.
Chose the Loupe tool from the Cursor toolbar or by using the shortcut P. The Loupe is located directly above the Viewer. It is the initial cursor of the Zoom Cursor group. As the last used cursor is displayed at the head of the group, it may be necessary to open the group (long-press on the visible cursor) and select the Loupe from the list.
From the Cursor toolbar, either click the Loupe tool icon directly if displayed or click-and-hold the cursor displayed and select the Loupe from the list. Alternatively, press the P key at any time.




Click and hold the pointing device (e.g., mouse) in the areas of an image where you wish to inspect details.




Drag the mouse to move the Loupe. The Loupe can be used within the main Viewer as well as in the Browser on a thumbnail.




To hide the Loupe, click on another Сursor tool (e.g., the Pan cursor, or press H).
Changing the Loupe settings
The way the Loupe tool interacts with the image can be customized. You can alter the size and magnification and choose if you want the Loupe to open directly under the cursor or to the side.
1. Navigate to the Cursor toolbar and click-and-hold the Loupe tool icon

to open the zoom cursor group. Select a highlighted menu item and release the mouse button.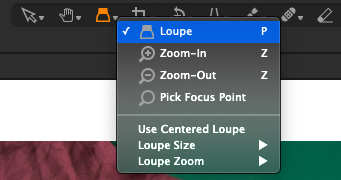 2. Select Use Centered Loupe when you want to operate the Loupe directly under the cursor. If this option is not selected, the Loupe will open next to the cursor so that the selected area is visible in the Viewer as well as enlarged in the Loupe.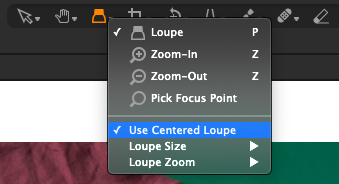 3. To change the size of the Loupe, select the Loupe Size and then select from one of three settings (Small, Medium or Large) or hold the Option/Alt+Space keys (Mac/Windows) while scrolling to change the size of the Loupe.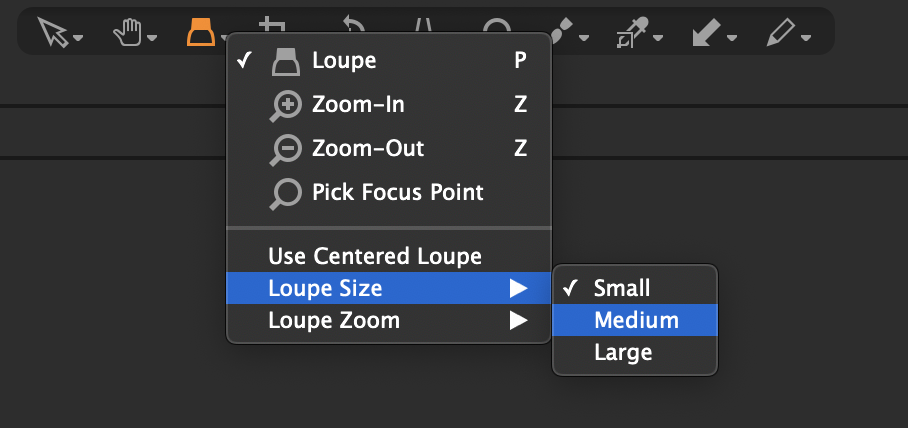 4. To alter magnification of the Loupe between 25% to 200%, select the option from the same cursor tool menu or use the mouse scroll wheel to zoom in or out while the Loupe is in use.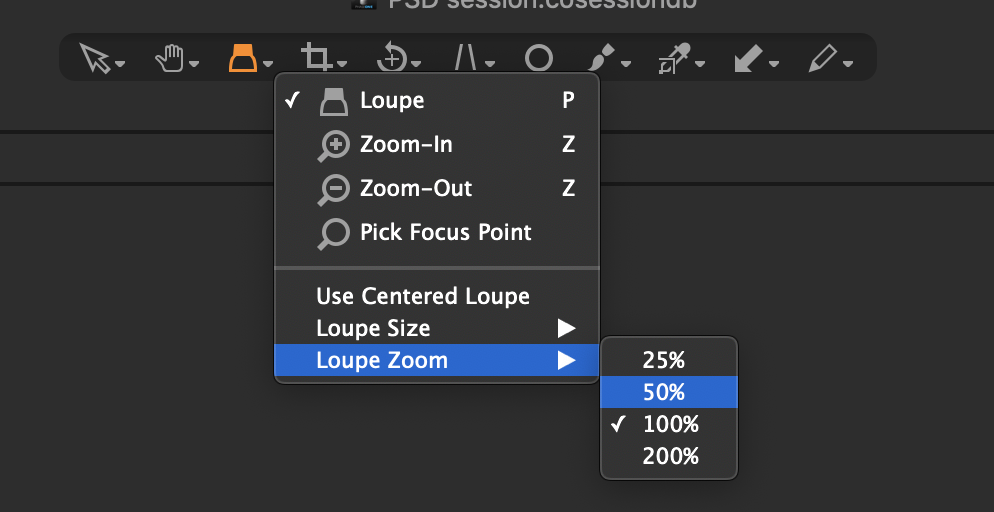 5. To reset the zoom to 100%, go to the Loupe menu option and select it from the list.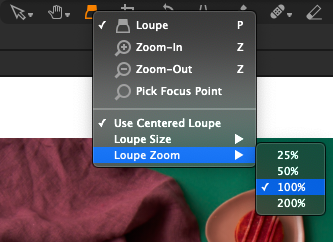 NOTE: There is no Loupe tool in Capture One Express.
<< Slide show | Viewing a magnified image >>