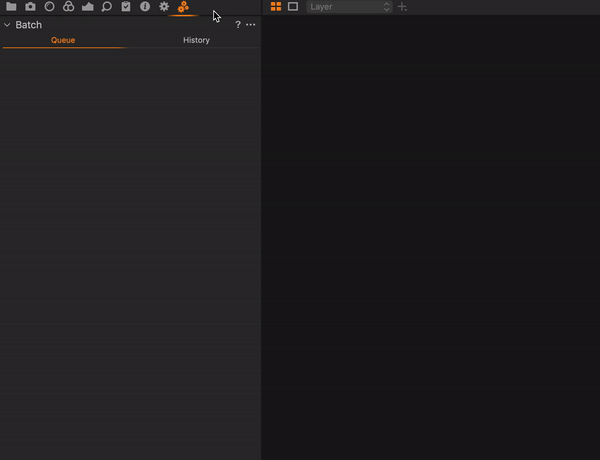 All of the Tool Tabs are customizable: you can add, move, duplicate, and remove tools from any of the Tabs. You can also add your own custom-named Tool Tabs and add any combination of tools to them.
Right-click anywhere on a Tool Tab and select Add New Tool Tab -> Custom Tool Tab from the dropdown menu. Alternatively, go to View -> Customize Tools -> Add Tool Tab and select the appropriate Tool Tab.
When the Custom Tool Tab option is selected, a dialog box appears. Name the Tab, choose an icon and press Add Tab. The icon will appear in the Tool Tab bar.
Right-click on the icon and select Add Tool from the drop-down menu and select the desired tool. Repeat this procedure to add more tools.
To rearrange the Tool Tab Bar, press Cmd/Alt (Mac/Windows) and drag icons in the Tab menu to the preferred position.
Right-click on the Tool Tab Bar and select Remove Tool Tab to remove any unwanted Tool Tabs.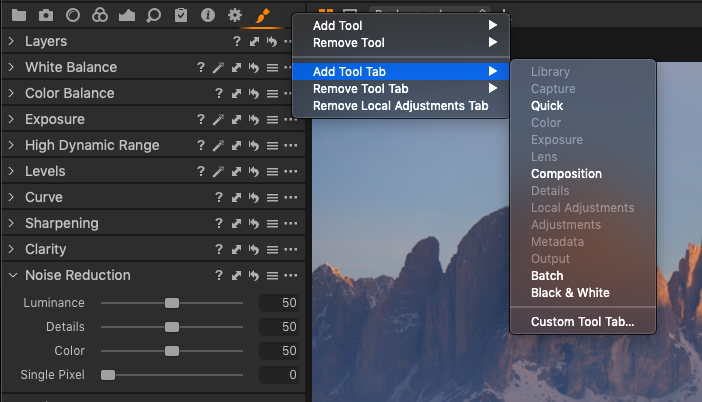 NOTE: In Capture One Express Fujifilm/(for Sony), it is not possible to customize your workspaces, tools and tool tabs.