IMPORTANT: From February 2023, we have made changes to the way licenses work. Please read more about these changes here.

Capture One offers perpetual and subscription licenses for users. The difference between those is the term of validity. A perpetual license is everlasting (for life, providing that you meet the minimum system requirements), while with a subscription plan you have to make regular payments to keep the license active – but you always have access to the latest version.
About perpetual licenses
Once you make a full one-time payment for the Capture One software version, you obtain a lifetime license. You can use this license to activate the version you purchased for, and for any older versions.
Be sure to keep your workstation inline with the minimum system requirements to ensure the version you purchased will always work with your hardware. To check what max software update you are eligible to, please navigate to your user account -> Plans & services management -> you will see the related information under the license you own.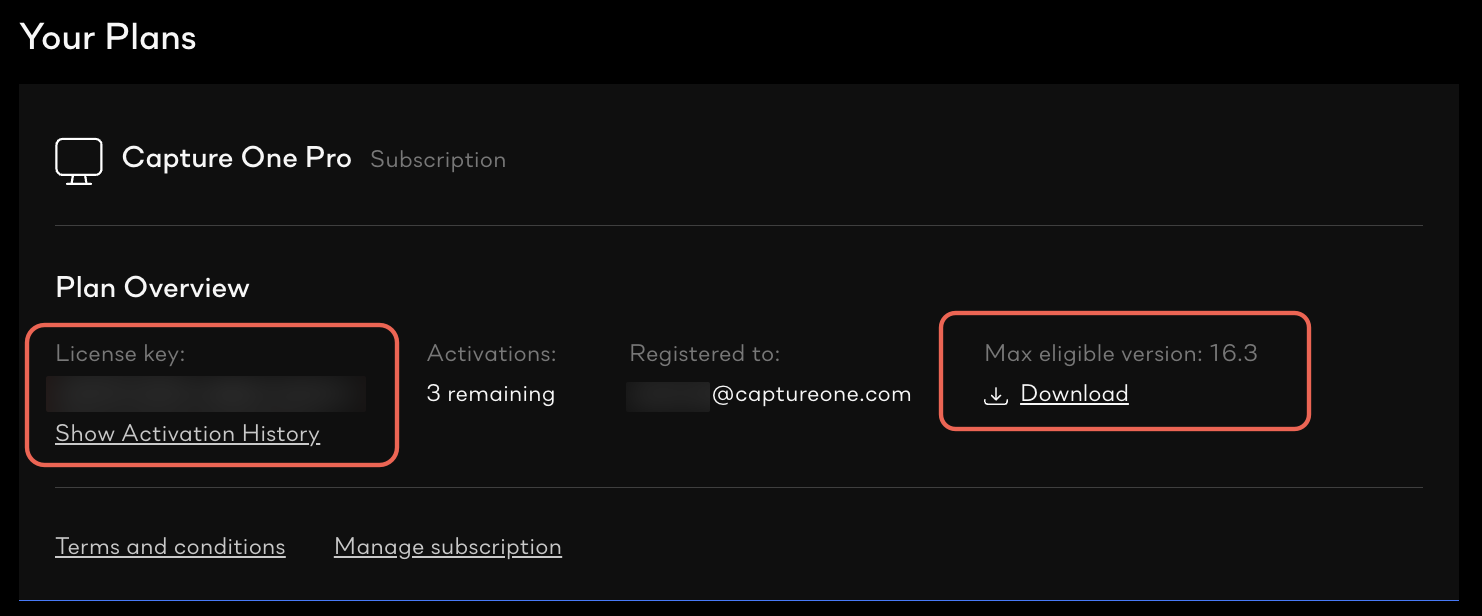 About subscription licenses
With a subscription license, you have to make payments monthly or annually based on your subscription plan. As long as you make regular payments, a subscription license works with the latest version of Capture One. You can also activate the previous versions of the software with your subscription license.
NOTE: To use Capture One on a subscription basis, you must have and maintain an internet connection allowing for communication between your equipment and Capture One's equipment over the internet for the purpose of Capture One being able to validate and reconfirm your valid subscription license, including payment of applicable subscription license fees from time to time during the subscription period.
Subscription plans
| | |
| --- | --- |
| Subscription plan | Description |
| Annual prepaid | When you choose an annual-prepaid subscription plan, it means that you will be charged the indicated amount once a year. The first payment is done at the moment of purchase, while ongoing payments will be made on the date specified in your Order History -> Subscriptions -> Next Charge field. |
| Monthly | This subscription plan is particularly suitable for those who value flexibility. It means that you will be charged on a month-by-month basis while your subscription is active. |
| Annual paid monthly | An annual subscription billed monthly meant that you would make monthly payments on the specified dates during the 1-year contract period. The subscription couldn't be canceled prior to the end of the 12-month term. No longer sold. |
Cancelling subscription
If you want to cancel your subscription and not prolong it for another month or year (depending on your subscription plan), you can do so through your Capture One account. See the detailed instructions in this article.
NOTE: As soon as you press the 'Cancel' button, the end date of your subscription will be set to last day of your current cycle (monthly or annual). By that time, you will still be able to use Capture One having access to all updates and upgrades released in the remaining time period.
After the end date, your license key will be disabled and you will lose the access to the software entirely.
The number of activations per license
Every Capture One license is cross-platform compatible (be it macOS or Windows) and allows you to activate the software on a specific number of machines. The number of available activations depends on your license type. Read more about how many computers can be activated with each Capture One license in our dedicated article:
How many computers can I install Capture One on?
Backwards compatibility
All Capture One licenses are backwards compatible which means that they can be used to activate older versions too. Let's say you have obtained Capture One 23 license key and use it on your new MacBook running the latest macOS. You have the second computer on an older macOS that requires an earlier version of Capture One compatible with that OS version. That's not a problem – simply download Capture One 22, 21, 20 or 12 (the one supporting your old macOS) and activate it with your Capture One 23 license key. Older software installers can be downloaded here (scroll a bit down to see versions prior to 22).
IMPORTANT: The backward compatibility of Capture One subscriptions depends on whether it was issued by FastSpring. FastSpring licensing was first introduced in Capture One 11.3.2. If you can find your license in the FastSpring Order History, your license is a FastSpring one.
Like this, all Capture One Pro subscriptions purchased via FastSpring can activate the software starting from version 11.3.2 onward. Sony and Fujifilm subscriptions were introduced even later and have been supported since the release of Capture One 12. Subscriptions for Capture One Nikon can activate the software starting from  version 20 (13.1.0) accordingly.
Legacy subscriptions (obtained before November 2018) are supported since Capture One 8 onward and allow customers to use Capture One from version 8 to the latest one. These are no longer sold and cannot be found under the FastSpring order history. 
The Terms and Conditions of your license purchases (made via our web store) are always accessible from your Capture One account under the 'Plans & services management' section: